How to Snack Your Way to Longer and Stronger Hair [2023]
Do you love your hair? Want to keep it healthy (and growing long!)? Then you'll want to make these hair-healthy snacks a part of daily life!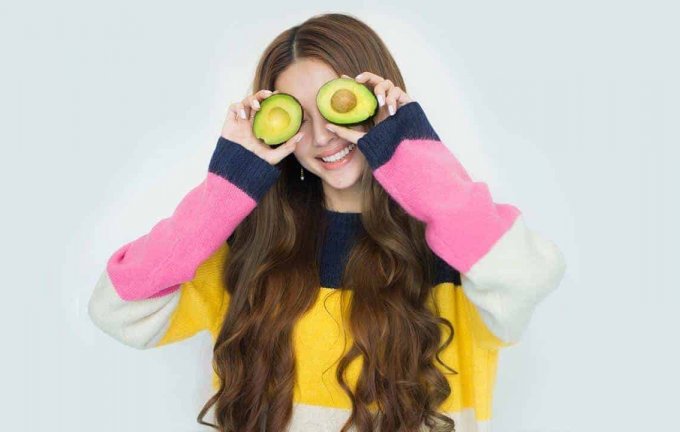 What action do you do every day that somewhat feels effortless but can make a huge difference to the quality of your hair? Snacking! Your diet is the foundation for growing long, strong, and healthy hair. Keep reading for my favorite hair-loving snacks.
1. Avocado 🥑
One of my favorite superfoods is the buttery Avocado. It's so yummy that it kinda feels wrong that it's so healthy?! It's loaded with healthy unsaturated fats, fiber, potassium, iron, copper, folate, and other minerals. Not only is it great for your brain and heart health, your scalp and hair absolutely love it!
It's a great source of Biotin and Vitamin E which improves blood circulation and helps the follicles work more efficiently to promote hair growth. It also maintains the balance of oil and PH levels, which are produced in excess, and can clog the hair follicles and cause the hair to fall.
When I started incorporating more avocado into my diet a few years ago, I found that I rarely suffered beyond the normal amounts of hair fall like I'd used to. So when you find your hair is falling out, load up on avocados - it's the most delicious way to get Vitamin E and reduce that hair fall!
I always include half an avocado in my breakfast usually on toast with a bit of salt and pepper. Sometimes I'll have the other half in the afternoon with a salad or with whatever I am eating. It kinda goes with everything!
Image: The Garlic Dairies
2. Sweet Potatoes 🥔
Sweet potatoes are full of vitamins and minerals and the magical Beta Carotene. This substance is converted to vitamin A in the body and is key to making your hair hold moisture and helps your stands to grow with a sheen and luster to them.
I can hear all you fries-lovers rejoicing. Yes, you are now free to eat sweet potato fries, guilt-free! Ok, maybe not completely guilt-free but at least you're doing something great for your hair, right?! I snack on these around twice a month and love to bake mine into wedges favorite recipe here.

If it's on the menu at a burger joint, you can count on me to always order them! For a healthier alternative, munching on carrots is a great way to load up on Vitamin A.
3. Green Vegetables 🥬
Spinach is one of the most nutrient-rich leafy greens available. It's rich in Vitamin A and C, iron, folate, and beta carotene which is great for hair, and if you like it, I would recommend having it regularly in your diet to support your hair growth. However, my favorite vegetable to add to my diet for hair health is broccoli!

It derives most of its caloric content from protein, which is essential for hair health and growth. It also contains a substance that when ingested, inhibits dihydrotestosterone, which is closely related to hair loss and thinning. So if you have a history of hair loss in the family, eating more broccoli may help slow down your hair loss.
I love cutting up broccoli into small pieces and baking it with a bit of olive oil, salt, and pepper - I can snack on these all day! If I have extra time on my hands, I'll make this recipe here. To me, snacking on broccoli is more satisfying than downing a packet of potato chips and I get all the lovely hair growth nutrients as I do it!
Image: A Beautiful Plate
4. Chia and Flax Seeds 🧆
Omega-3 fatty acids are great for your hair - it helps add a sheen and luster to your stands and keep your scalp healthy which we know, promotes hair growth. Chia or Flax seeds are rich in these fatty acids as well as Vitamin D and protein, all of which are loved by your hair.

Why it made it on the list for me is because they're so easy to incorporate into your food. I sprinkle them on whatever I can: smoothies, salad, muffins!
5. Nuts & Legumes 🌰
Nuts and nut-based butter such as peanut and almond butter are high in fiber, protein, biotin, and vitamin E. In particular, almonds are great for a healthy scalp and hair.
I always like to keep a bowl of nuts on my desk to snack on while I work or put them in my smoothie bowls as pictured above.
Legumes such as edamame and chickpeas also make great snacks and are packed with vitamins and minerals including folate and biotin.
If Toby and I decide to stay in, my go-to movie snack is hummus with carrots. All the nutrients you get from a portion of hummus and carrots help fight thinning hair, dandruff, irritated scalp, and hair loss! It's also great for your overall health!
If you want to dive deeper into my hair care secrets and learn how to save money while growing your longest and strongest hair yet. Check out the 14 Day Haircare Challenge to find out more!
WANT BETTER HAIR?
Try the 14-Day Haircare Challenge!